Evaluation: 2011 "I'll Go If You Go® " Program
The Prostate Net's mission is to develop and maintain an interactive matrix of educational tools and services that will educate male consumers most at-risk for prostate cancer and motivate them and the people in their support networks to make informed choices as to healthcare and lifestyle management, as well as to create an interactive network to maximize broad communication to of these issues between consumers and healthcare providers. Since its inception in 1996, The Prostate Net® actively works to achieve its national educational and community activism objectives through educational initiatives such as its patient and professional website, www.theprostatenet.org, its annual regional patient/professional educational symposia held around the country and abroad.

The "I'll Go If You Go® " Breast/Prostate Cancer Forum offers a creative and effective approach to health education and awareness inspired by the basic concept behind The Prostate Net's already successful "Gentlemen Check Your Engines" Program, which cites that men pay more attention to their cars, motorcycles and other toys than to their personal health. These initiatives focus on utilizing a credible environment that is safe and comfortable, in this case the Harley-Davidson dealership, and motivating men to come there for health information and screenings. The key innovative factors are found in the unique corporate partnership with Harley-Davidson dealers, healthcare providers and public health agencies to promote men's health in a unique way. The integration of a women's initiative is intended to encourage greater male participation in the educational and health screening activities through the comforting and supportive presence of a female partner or other loved one, as indicated by the project title. The experience from 2010's event in New Jersey, done in conjunction with the "St. Valentine's Day" promotion period, served to increase the numbers of men participating in the health event through the use of incentive items suitable for the women in their lives. As a result, The Prostate Net® has expanded its focus to include women's health as part of the overall mission.

This unique educational event, focusing on breast and prostate cancer, is aimed at both women and men, (spouses, partners and significant others) stressing the need to encourage one another to become aware of, and be screened for, breast cancer or prostate cancer. This event was developed around the knowledge that women are the number one healthcare family decision-makers and responsible for more than 80% of healthcare decisions, particularly within the target population of minority men and women. Partnerships have been forged with Gilda's Club and Susan Komen for the Cure Foundation to expand the concept to other U.S. regions in partnership with their local chapters. In conjunction with the World Wide Prostate Cancer Coalition initial talks have begun with Europa Dona (a prominent breast cancer advocacy organization) to bring the concept to the European community. The concept was proven earlier this year with a joint effort with the Prostate Cancer Foundation of Australia where a pilot global launch was initiated as proof of concept.

The "I'll Go If You Go® " Breast/Prostate Cancer Forum allows for the presentation of community events integrated into educational and social support components. During the educational plenary sessions, nationally-recognized faculty, led by Mr. Virgil Simons of The Prostate Net®, will speak about topics related to breast and prostate cancer including prevention strategies involving environment, diet, lifestyle, restoring quality of life, management of side effects and palliative care issues. To further illustrate the concepts discussed and create a hands-on learning environment, free overall health screenings will also be offered for diabetes, blood sugar, cholesterol, oral cancer, and body mass index (BMI). Using this dual approach, The Prostate Net® and its partners aim to forge the first breast cancer/prostate cancer joint effort, designed to deal with those conditions of access to information, risk awareness and care that are pervasive in the medically underserved minority population.

Because of socio-economic condition, racial and/or ethnic impediments, and other situations that limit the potential to achieve the best standards of health, there is a compelling need to identify those programs that have been successful in helping to change the negative paradigms of health disparity due to lack of access to information. The Prostate Net® has shown that it can provide a continuous channel of vital healthcare information from the medical establishment into at-risk communities relating not only relating to prostate cancer but also to the entire panoply of medical conditions disproportionately manifest within these communities, e.g. diabetes, cardiovascular disease, hypertension, etc.

The "I'll Go If You Go® " Breast/Prostate Cancer Forum, which was started in October 2009 with an attendance of 76 people on-site and several hundred people reached post-event through the internet, recognizes that women are the primary healthcare family decision-makers and play a large role in encouraging for their loved ones to seek medical attention. In the case of consumers suffering from prostate cancer, it is largely their significant others, mothers, daughters, sisters, and friends who play a significant role in their lives as they transition from diagnosis to treatment to recovery. By collaborating with Komen for the Cure of North Jersey and Gilda's Club, two bastions of the cancer support community, and local health care centers, The Prostate Net's "I'll Go If You Go® " Project seeks to create an open and welcoming community environment where free social, emotional, and educational support is offered to both men and women living with prostate and breast cancers.

Through its collaborations with other local community healthcare organizations, The Prostate Net® will reach an even broader spectrum of consumers, both men and women, both cancer survivors and their support networks. Furthermore, the program will be supported by the following local healthcare organizations: Hackensack University Medical Center, St. Michael's/Cathedral Healthcare Systems, University of Medicine and Dentistry, University of Michigan Cancer Center, Karmanos Cancer Center, Wayne State University, and Essex County Cancer Coalition. Each organization will be on-site to distribute medical information and to speak with program attendees, offering an exceptional opportunity for men and women to learn about breast and prostate cancer and the benefits of prevention and early detection. The Prostate Net's objectives projected outcomes will be to meet and exceed the attendance and information dissemination targets of previous years. The experience gained from the success of the "Gentleman Start Your Engines" Program over the past three years and in multiple markets has shown that information coming from a trusted source has a very significant impact on increasing awareness and education among men as well as motivating them to utilize the access to care afforded by the program.

The Prostate Net's data collection activities employ a multi-pronged approach. Prior to the Forum, advance registration processed by email/phone/mail will be tabulated, and such data will be compared to actual on-site registrations and attendance. On the day of the event, participants will be asked to submit brief surveys following the educational plenary session(s), and additional follow-up will be conducted via email. Attendance and participation data will also be collected from the various screening booths as participants approach representatives for their complimentary health screenings for various co-morbid conditions and inquire about additional healthcare information. The collection of consumer feedback will also be administered through the organization's web portal, www.theprostatenet.org, which registers over 98,000 "hits" monthly, and allows for consumer comments and questions, and also allows viewers to download informational materials presented at the "I'll Go If You Go® " Forum. All data will then be compared to that of from previous years, and the findings will be used in the development of recommendations for future programming.

The 2011 program has only served to validate the concept as critical not only for minority communities at-risk from breast and prostate cancer, but for the broader scale community at-large. The reality that men see physicians 50% less than women and only 30% of men even have a regular physician serves to reinforce the role of women as the "health police" of the family and are necessary to motivate men into the health care system and to provide monitoring of that care should any co-morbid diagnosis occur. Conversely, men are shown that prioritization of their personal health needs has a spill-over effect in providing for the needs of the family in general and motivates them further towards leading positive health-seeking behaviors.

The strength of The Prostate Net's mission and work is aided by the following collaborating organizations: Department of Defense Prostate Cancer Research Program, American Society of Clinical Oncology, American Association for Cancer Research, the National Association of Barber Boards of America, American Public Health Association, among others. Providing organizational oversight is its Medical Advisory Board composed of noted cancer clinicians, researchers and health professionals.

Throughout the past 15 years, The Prostate Net® has expanded its reach throughout the U.S. and to more than 50 countries. The overarching objective is to continue to provide service to a growing range of consumer, healthcare, government, university and service agencies to aid in reducing racial and socio-economic health disparity through education, research and community intervention within the context of an interactive communications entity, in the spirit of the motto, "We inform to fight."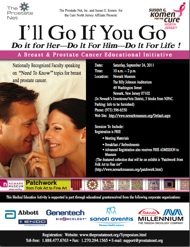 Newark, NJ; - Newark Museum
- I'll Go If You Go® - Prostate Cancer Symposium. - 9/24/2011




Ypsilanti, MI; - Marriot at Eagle Crest
- I'll Go If You Go® - A Breast and Prostate Cancer Initiative. - 11/12/2011