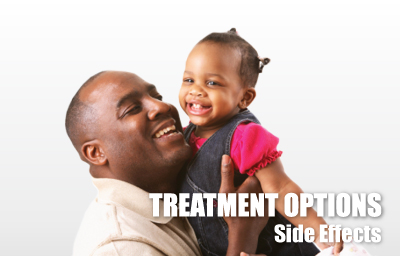 Side Effects and Dealing with Them

It has been projected that the primary treatments of surgery and radiation can have some type of side effects stemming from the treatment itself occurring in approximately 30% of patients. In looking at radiation therapy a recent interventional protocol has been developed that can minimize the incidence of treatment-related issues. Dr. Cristina Gutierrez talks about the application.



Sexual Health Videos for Men and Women - Dr. Jeffrey Albaugh, Director of the William D. and Pamela Hutul Ross Clinic for Sexual Health


Reclaiming Sex & Intimacy after Prostate Cancer
People Living With Cancer - a site produced by the Patient Information Program of the American Society of Clinical Oncology (ASCO) providing comprehensive information on 85 types of cancer.
National Association for Continence - information and support for urinary incontinence.

Reclaiming Sex & Intimacy after Prostate Cancer - Dr. Albaugh discusses the risks to sexual health associated with each type of treatment for prostate cancer.
Managing Diarrhea - chemotherapy and radiation can often lead to diarrhea. This site provided by the National Digestive Diseases Information Clearinghouse provides ways to control the problem
Chemobrain, Oral Mucositis - and other chemotherapy side-effects are dealt with on the site for Multinational Association of Supportive Care in Cancer
Anemia.com - an educational site supported by the National Anemia Action Council helps deal with anemia associated with serious diseases
CancerNausea.com - deals with nausea and vomiting associated with the side effects of radiation, chemotherapy or post-operative protocols. Information available in English, Spanish, Italian and German
National Lymphedema Network - deals with the damage to, or removal of, the lymph nodes associated with various cancer treatments

This page is partially supported by an unrestricted educational grant from Augmenix, Inc.